February is proving to be a busy month. The caucus on Saturday has led into town halls on Monday and Wednesday evening and a debate on Tuesday evening, with another primary this Saturday to go along with the FEC deadline.
Despite all of that, the candidates are emailing at their standard pace, which yes, means Pete Buttigieg is sending about a quarter of the entire day's emails.
| | Emails | Campaigns |
| --- | --- | --- |
| Total | 51 | 8 |
| Non-Donor | 26 | 8 |
| Donor | 25 | 7 |
For all new readers: Welcome! I am currently on the mailing lists of Joe Biden and Donald Trump, though I have previously been on the mailing lists of 28 Democratic candidates! This blog breaks down recent emails with charts and excerpts. If you already know all of this, feel free to skip to the next chart!
It took some time for the Trump emails to kick in, so I started officially tracking his list on July 7. I have been tracking Biden's for longer, but I will start comparing them as of July 7. All of these emails are going to a new email, and I have not donated, filled out surveys, signed petitions, or otherwise interacted with either candidate's emails.
The rules I try to follow for the various categories are laid out in The Framework.
I feel like it's worth pointing out that I've donated to every candidate in that chart. Tom Steyer continues to not email me as a donor.
Anyway. Pete Buttigieg is still sending 7 emails a day, while Joe Biden is still only managing 5 a day. Elizabeth Warren is coming in third with 4 emails, and everyone else falls behind.
While emails are a bit more complicated than golf, I still think lower numbers are better.
Just about everyone was asking for money, though Elizabeth Warren offered me one last chance to get her pennant pin and she also offered me brand new "Michigan for Warren" t-shirts, available now on her store.
Except… these aren't actually brand new. Warren's had ______ for Warren t-shirts on her store for ages, padding out her apparel page count. The design hasn't changed any.
I like Warren's strong brand, but I have to say, her designs are either knock me over incredible or absolutely boring. This is definitely in the boring category. The most exciting thing here is the underline.
Tom Steyer wanted to let me know about his town hall last night. He was actually the first candidate to tell me about his town hall, even though Pete Buttigieg and Bernie Sanders were on before him. (Buttigieg ended up sending me 3 emails about his town hall, while Sanders didn't mention his at all.) Mike Bloomberg, Amy Klobuchar, Elizabeth Warren, and Joe Biden all have town halls on Wednesday evening, as Tuesday evening is for a debate.
Finally, Pete Buttigieg, Bernie Sanders, and Mike Bloomberg all asked me to volunteer. Buttigieg offered me a list of local events, while Sanders asked if I could host a canvass for him. Bloomberg showed me "inspiring pictures" of his volunteers and cute dogs and asked if I could join them.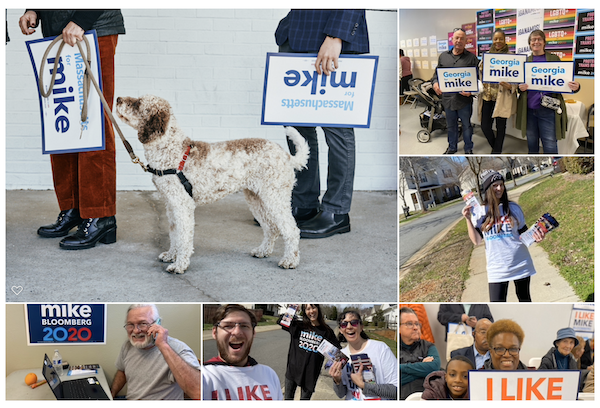 It looks like Bloomberg is going the boring state signs route too, though at least he found capital letters for the states. It really bugs me that he can't capitalize his own name.
Joe Biden celebrated his official second-place finish in Nevada, now in third place for delegate count: Bernie Sanders is in the lead with 45 delegates, Pete Buttigieg has 26, and Joe Biden has 15.
I believe the Nevada caucus was the first time when a female candidate failed to garner any delegates in a primary. However, our LGBTQ+ candidates are still rolling at 100% of their primaries end up with them scoring delegates. It's an impressive record.
South Carolina votes on Saturday, and then Super Tuesday will happen just a few days later, with the bulk of delegates being awarded. We'll see how things go down.
Amy Klobuchar ended up in sixth place in Nevada, which does not explain this atrocity she sent me.
She has to be trolling me, right? She can't possibly have a design team that is doing this to her email colors on purpose… right?
(Also, sixth place = on fire, which is… yes, okay, but maybe not in the way she's claiming.)
Klobuchar's focus is on the debate, though after her last debate performance, she might not want to be so gung-ho for it. I was unsure if she was going to start crying or deck Pete Buttigieg in the last debate. It was not a good look.
Joe Biden is also focusing on the debate, setting a big fundraising goal of $1.5 million. He knows he's the best candidate in the race, he just needs the funds to back it up.
Pete Buttigieg is 28% of the way to his $13 million goal, or $3,640,000 in. He needs this by Super Tuesday, so it'll be very interesting to see if he gets it (especially since the FEC deadline for February comes before then).
Bernie Sanders is also needing money, and for the first time, he's actually admitting that he needs money, not just contributions.
Saturday is not just the South Carolina primary. It's also our FEC fundraising deadline.

That means five hours after polls close, we close the books on our biggest fundraising deadline yet.

And this is the truth:

We need to be able to report an amount of money raised that will absolutely SHOCK the corporate media, our opponents, and the establishment.

So that's why we're asking, right now, if you can make a $2.70 contribution before our FEC deadline.

Can you please contribute $2.70 to our campaign today before Saturday's FEC fundraising deadline? This is the BIGGEST deadline we've faced yet as a campaign, and we need to do everything we can to make it count.

We don't just need to have a huge number of contributions. We ALSO need a HUGE total raised. That is how we will prove that our campaign has what it takes to win this election.

Thanks for chipping in. It means so much to Bernie and our campaign.

Faiz Shakir, Campaign Manager, Bernie 2020
This is a detour from previous emails, where Sanders always stressed that the amount you donated didn't matter, what mattered was the number of donations (gee, I wonder how he managed to get 7 million donations with that rhetoric). However, his emails recently have been picking up the donation amounts, asking me for $5 and $10 instead of just $2.70. Is he hurting for money? Maybe. Maybe not. He was just boasting about how he brought in more money in January than all the rest of the candidates combined.
His emails really do make me believe that Sanders has no idea how to act when he's actually leading. Perpetual victim-hood is his bread and butter. As long as the world is being unfair to him, he can be angry, but when everything is going his way, he needs to manufacture reasons to maintain his anger.
I have to say, I'm looking forward to the debate tonight. Tom Steyer will be back, but I have a feeling it will still be as spicy as the last one… if not more so.