Over the weekend, knives were out. Joe Biden attacked Pete Buttigieg, who defended himself and criticized Bernie Sanders' dark money group, who attacked Buttigieg for his billionaire donors, which Elizabeth Warren joined in on getting upset about, while Tulsi Gabbard stabbed at Tom Perez, who isn't even in the race.
| | Emails | Campaigns |
| --- | --- | --- |
| Total | 131 | 11 |
| Non-Donor | 68 | 11 |
| Donor | 63 | 8 |
For all new readers: Welcome! I am currently on the mailing lists of 2 candidates for the Democratic Presidential Nomination! This blog breaks down recent emails with charts and excerpts. If you already know all of this, feel free to skip to the next chart!
I signed up to all mailing lists either on May 21 or the day the candidate announced, whichever was later. Using a different email address, I have donated at least $1 to all candidates who have been on a debate stage (I have given additional donations to my preferred candidates through my personal email, but the campaigns have linked the two accounts together and may ask for more as a result).
When showing breakdowns by campaigns, there will usually be 2 numbers. Emails to my non-donor account will be indicated by a darker color/top bar in horizontal bar charts. Emails to my donor account will be indicated by a lighter color/bottom bar.
Unless otherwise specified, all other charts combine the donor and non-donor numbers, as they are roughly 1-for-1, so the percentages and relative differences don't change much. You can divide the numbers in half to get the rough estimate for what someone not signed up twice would be receiving. The rules I try to follow for the various categories are laid out in The Framework.
If you want specific data on any particular day, feel free to drop a comment!
Once again, Pete Buttigieg crashed to a first-place email victory with a massive 13 emails in just 2 days. Joe Biden and Amy Klobuchar were much more moderate with 9 emails each, while Michael Bennet and Elizabeth Warren finished with only 8 emails.
Saturday was the day after a debate, which is always hopping email-wise. Campaigns are flush with new donors and new donations and new curious, so they have new emails to introduce themselves to.
That means there's a lot of "Here's the truth" and "Thank you for your support" in the post-debate emails, though mercifully, not many candidates were excessively humble.
The candidates on the debate stage were mostly pleased with their debate performance and using it as a fundraising vector, though only Joe Biden declared a debate victory.
Folks — there's no question about it: Joe Biden won the debate last night.

Vice President Biden stood strong on the debate stage in Manchester and reminded America what we need in our next president:

Experience. Trustworthiness. Empathy. A bold vision. The ability to lead on day one.

Donate $5 to Joe Biden right now to make sure he is the one debating Trump in the general election this year »

Team Joe
According to FiveThirtyEight, things are a little different…
According to a tracking poll, no other candidate lost as much support as Biden. If that is the definition of winning… well, that seems to align with the current President's definition. I thought Biden was trying to frame himself as the opposite of Trump.
Dig on Biden aside, Pete Buttigieg was digging on Biden. While Biden was continuing to run the attack ad on mayors of small towns not being fit for the Presidency, Buttigieg hit back with a pretty powerful That's the point.
Yesterday, Vice President Joe Biden's campaign released an attack ad on Pete. It suggests that Pete's perspective as a mayor of a small American city is incompatible with the presidency.

But Pete's on the ground experience as mayor turning around a Midwestern industrial city — and as a veteran — is exactly why he is running for president.

Because at this moment, the American people are calling out for something completely different from this classic Washington style of politics. Pete's offering a new vision of what politics could be, shaped by his experience as a middle-class mayor and veteran. That's the point.

With Pete's win in Iowa and now his surge in the polls, the attacks are going to keep coming. So if you're ready to turn the page to what's next, and if you're proud to be on this hard-working team, please chip in right now to help us reach our $1.5 million goal before Tuesday.

Pete for America
At the same time, both Bernie Sanders and Elizabeth Warren have been hitting Buttigieg for having big money donors.
Every few months, Pete Buttigieg releases a list of people who have raised more than $25,000 for his campaign. He even has a "National Investors Circle" of people who pledge to raise 10x that amount.

Needless to say, Bernie doesn't have bundlers or an "investors circle." But he does have YOU.

And while the $2.70 contribution we're about to ask you to make may not seem like the kind of money that can compete against Pete's billionaire friends, I can assure you that when tens and tens of thousands of people come together to add theirs, it does.

Faiz Shakir, Campaign Manager, Bernie 2020
It's incredible that "Buttigieg is transparent about where his money is coming from" is an attack.
Even more incredible considering that Sanders himself isn't that transparent.
Elizabeth Warren is also doubling down on the hypocrisy:
Right now, Super PAC money is being dumped into this race at an alarming rate.

Billionaires are unloading their boatloads of cash into the campaigns they think will protect their interests over the interests of working families — and two billionaires are running to protect their own interests themselves.

And Super PACs are spending millions of dollars in support of almost every top-tier campaign — but not this one.

This is not how we beat Donald Trump in November — and if we don't face that fact right now as a party, we're going to lose. Beating Donald Trump is going to take a grassroots movement — and that's exactly what we're building on this campaign.

I'm not taking a single penny from federal lobbyists or PACs — and we don't have a Super PAC spending money on our behalf. I don't sell my time at closed-door fundraisers — and this campaign is not being propped up by billionaires.

Elizabeth Warren
Someone really needs to enlighten her about the Progressive Change Campaign Committee, which proudly endorses her front and center of their webpage.
Meanwhile, Tulsi Gabbard attacked the "true" enemy… Tom Perez.
She called Iowa an example of the "gross failure in leadership" and demanded Perez step down… but once again, she doesn't understand how the government works or she doesn't care. Perez did not control the Iowa Democratic Party. The Iowa Democratic Party does not answer to Tom Perez. All this petition does is cast doubt on one of our most sacred political institutions: our election process. Whether she's doing it intentionally or she just likes to stir drama, Gabbard is yet again helping Russia.
While I'm growing tired of Gabbard's narrative, I'm also tired (and very confused) of Joe Biden's narrative.
He sent 9 emails in 2 days. Here's what was consistent:
Look, even after a punch to the gut in Iowa, Joe isn't going anywhere. He's nothing if not resilient. And I believe that we're going to have a strong finish in New Hampshire, IF we have the resources to get our message out.

Katie Petrelius, Finance Director, Biden for President
Look, I know Iowa felt like a gut punch. Trust me, I felt the same way. But I won't stop fighting for this nomination. There's too much on the line for our country right now.

Joe Biden
Trust me, I know what it's like to take a gut punch. Campaigns and life test you. I've been there. But I always found my best when I got up, dusted myself off, and got right back in the fight.

John Kerry for Joe Biden (in 2 different emails)
4 emails in a row talked about Iowa being a gut punch. And that was just over the weekend. He's sent 7 emails since Iowa talking about taking the gut punch in Iowa, and he opened the debate by basically saying "We lost in Iowa and we're probably going to lose in New Hampshire."
Like with his earlier debate email, this is a "winning" strategy that redefines what it means to be a winner. If I were handling his email team, I would have made a declaration of a loss, then pivoted to what we learned and how we're going to move forward, then leave it in the past. I don't understand how constantly hammering your loss in to your potential supporters will help them continue to support you and not jump ship.
Post-debate emails are all about asking for money, and this debate was no different. The only candidates who didn't ask for money were the billionaires: Mike Bloomberg had a policy to streamline the tax code, while Tom Steyer asked me to write postcards to send to Nevada voters.
Elizabeth Warren was asking me to make phone calls for her, and Pete Buttigieg offered multiple ways to help him win in New Hampshire (knock doors, call phones, or donate money), but it was Bernie Sanders who felt the most creepy. With a knock on Iowa's app fiasco, he re-introduced his BERN app.
Let's be honest: it hasn't been a good week for some election apps. So our campaign wants to change that, with an app designed — and tested! — to help elect Bernie Sanders as our next president.

We have an app called BERN, and it's an incredibly easy tool to organize your friends, family, and other people you know to turn out for Bernie.

Our goal is to have Bernie supporters across the country add 1,000,000 friends to the app before Super Tuesday by matching them in the public voter file. Can you help reach that goal by downloading the BERN app?

Download the BERN app now to help organize people you know to elect Bernie.

Here's how it works.

Step one: Match your friends to the public voter record. You can make sure your friends are registered to vote, and we'll give you their polling locations to help them vote for Bernie.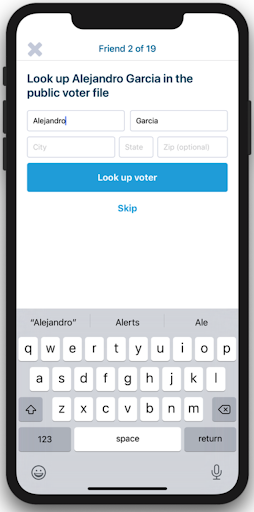 Step two: Mark your friends' support levels. When you add friends to BERN, indicate their support level on the 1-7 scale.
Then, you'll be able to take follow-up actions — like confirming your friends' polling locations, inviting them to use the app themselves, and more.

Here's why this matters: no one is more persuasive at getting your friends to vote for Bernie than you are. Really.

The more friends you can identify, persuade, and turn out, the better chance we have to win this election. And you can do it all on your phone. Ready?

Download the BERN app and start organizing your friends and family to turn out for our campaign. Together we can win New Hampshire on Tuesday, defeat Donald Trump, and transform our country.

Thanks for all you do.

Team Bernie
Other campaigns have tools you can use to track your conversations with friends and families about your chosen candidate–Elizabeth Warren, Pete Buttigieg, and Joe Biden come to mind–but only Sanders actually links that data to your voter record.
I don't know about you, but if a friend is actively tracking my voting status through an app, I don't think I'd consider them a friend for much longer.