Monday of Thanksgiving week brought a standard number of emails. I'm interested to see if the numbers change because of the double-holiday of Thanksgiving and Black Friday. Regardless, Andrew Yang and Joe Biden are having bus tours, Kamala Harris and Amy Klobuchar are having money problems, and Cory Booker brought a new poll to the table.
| | Emails | Campaigns |
| --- | --- | --- |
| Total | 59 | 14 |
| Non-Donor | 32 | 14 |
| Donor | 27 | 12 |
For all new readers: Welcome! I am currently on the mailing lists of 2 candidates for the Democratic Presidential Nomination! This blog breaks down recent emails with charts and excerpts. If you already know all of this, feel free to skip to the next chart!
I signed up to all mailing lists either on May 21 or the day the candidate announced, whichever was later. Using a different email address, I have donated at least $1 to all candidates who have been on a debate stage (I have given additional donations to my preferred candidates through my personal email, but the campaigns have linked the two accounts together and may ask for more as a result).
When showing breakdowns by campaigns, there will usually be 2 numbers. Emails to my non-donor account will be indicated by a darker color/top bar in horizontal bar charts. Emails to my donor account will be indicated by a lighter color/bottom bar.
Unless otherwise specified, all other charts combine the donor and non-donor numbers, as they are roughly 1-for-1, so the percentages and relative differences don't change much. You can divide the numbers in half to get the rough estimate for what someone not signed up twice would be receiving. The rules I try to follow for the various categories are laid out in The Framework.
If you want specific data on any particular day, feel free to drop a comment!
Julian Castro once again won the most number of emails sent in a day with 4 sent to his donors. Joe Biden, Pete Buttigieg, Kamala Harris, Amy Klobuchar, and Andrew Yang all sent out 3 emails each, while Cory Booker, Steve Bullock, Bernie Sanders, Tom Steyer, Elizabeth Warren, and Marianne Williamson stuck to just 2 in a day.
Andrew Yang and Joe Biden are both launching bus tours in Iowa. While Biden is calling his the "No Malarkey" tour, Yang has not settled on a catchy name. However…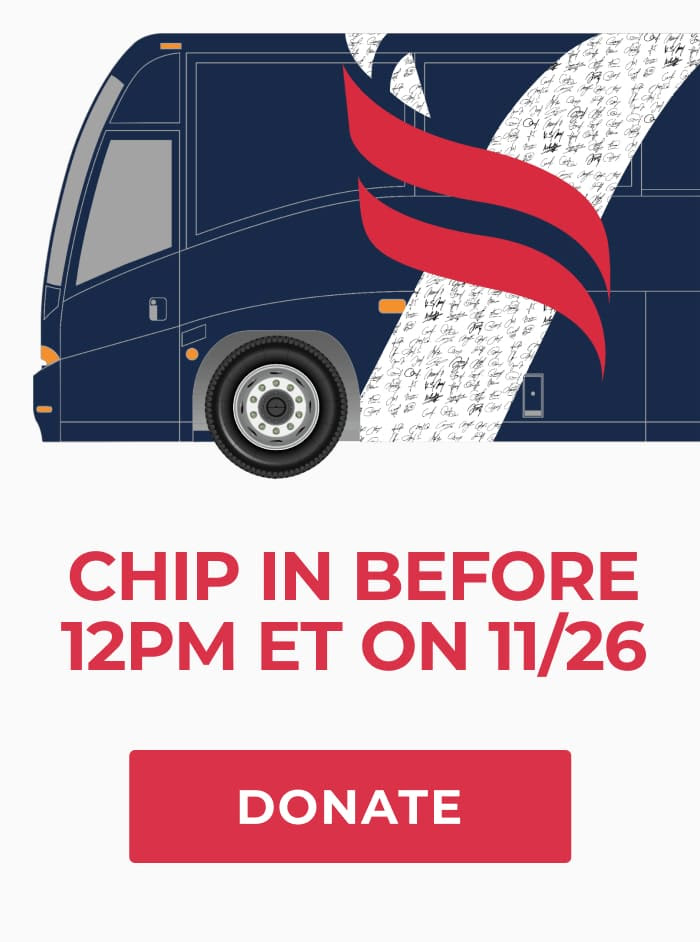 Yes, that's right, in order to fund the bus tour, Yang is offering to put your name on his bus!
Biden just asked for money to fuel his bus. Nothing in exchange. He hasn't even shown me a picture of his bus.
Instead, Biden opted for the desperation tactic.
I'm sorry to bother you, but this email is really important:

Joe Biden is the best candidate to defeat Donald Trump and make him a one-term president.

But right now we have less cash-on-hand than our opponents.

And to make matters worse, we are still 22,000 donations short of our end-of-month goal.

Look, we need to hit Saturday's goal. This race has been long and expensive. And if we fall short of our goal, we won't have the resources we need to win.

So please, don't ignore this email. Will you chip in $5 today?

Team Joe
Biden wasn't the only one with concerns about the expense of the campaign. Kamala Harris rehashed concerns she'd been expressing all week.
But we'll be frank: running for president is expensive, and we've already had to make significant cuts to go all-in on Iowa. We need to raise more money to compete with candidates raising huge sums of money and pouring their own personal fortunes into the race.

Kamala Harris
Harris also pointed out that at least 6 other candidates began their campaigns with start-up capital that she did not.
As a supporter of our campaign, you deserve to know the truth: running for president is expensive.

As of yesterday, there are:

Two billionaires and one mega-millionaire who are self-funding their campaigns

Two former presidential candidates in the running — both of whom have robust fundraising lists from past campaigns

One candidate who transferred $10 million over when she announced her campaign

All of that? That's what I call "startup capital." We don't have that kind of startup capital. But we do have YOU.

Kamala Harris
She is referring to, in order: Mike Bloomberg, Tom Steyer, John Delaney, Joe Biden, Bernie Sanders, and Elizabeth Warren.
Amy Klobuchar echoed Harris' money concerns, but in the other direction. While Harris was making cuts to tighten her belt, Klobuchar was growing too fast.
The good news is our campaign is growing fast and we continue to bring in more supporters every day. On the flip side, since we're growing so fast, we're seeing more expenses every day. Bottom line: We need to hit our $500,000 end-of-month goal if we don't want to fall behind.

Elise Convy, Finance Team, Amy for America
Incidentally, both Senators are asking for $500,000 goals.
Michael Bennet and Julian Castro both complained about Mike Bloomberg's billions as a way to try to get some more donations, while Steve Bullock just bemoaned the fate of his campaign if he didn't get what he wanted.
You need to donate $5 or whatever you can to Steve Bullock's campaign right now. Let us explain why:

IF we don't raise $300,000 by December 1st, we'll have to cancel our TV commercials.
IF we cancel our ads, tons of Iowa voters won't hear from Steve Bullock.
AND IF voters don't hear from Steve, we could be in for a difficult night at the Iowa caucus.

We still need $270,119 to hit our goal — and all donations up to $250 will be MATCHED.

Team Bullock
This reminded me very strongly of emails from Joe Biden, who has used the IF bad thing, IF bad thing, AND IF bad thing framing before.
Unfortunately, fear-mongering doesn't make me open my wallet.
Bernie Sanders and Steve Bullock both sent out merch store reminders, with Bullock announcing his Black Friday sale had already begun and Sanders reminding us to stay warm for voting season.
Prior to Thanksgiving, Pete Buttigieg, Marianne Williamson, and Tom Steyer all dropped some additional policies. Buttigieg talked about dignity and security in retirement, Williamson announced her Whole Health plan, and Steyer showed off his Affordable Housing plan. Buttigieg also put out a talking points for his Medicare for All Who Want It bulletin, so you know how to talk about it over Thanksgiving.
Cory Booker impressed me the most on Monday with an email talking about some great poll results for him out of Wisconsin.
The part that impressed me was the bit in bold. Take every poll this far out with a gigantic grain of salt. This is important to repeat and remind everyone at every chance, especially for head-to-head match-ups. Right now, the polls can show trends in interest and not much out. We are still months away from the first vote, much less the actual Democratic National Convention. Still, it's nice to see those numbers going up for your candidate.