On Tuesday, Julian Castro was completely honest (was he really?), Marianne Williamson has a novel idea for spreading her love, and Andrew Yang has new, exclusive campaign merch.
| | Emails | Campaigns |
| --- | --- | --- |
| Total | 56 | 14 |
| Non-Donor | 31 | 14 |
| Donor | 25 | 11 |
For all new readers: Welcome! I am currently on the mailing lists of 17 candidates for the Democratic Presidential Nomination! This blog breaks down recent emails with charts and excerpts. If you already know all of this, feel free to skip to the next chart!
I signed up to all mailing lists either on May 21 or the day the candidate announced, whichever was later. Using a different email address, I have donated at least $1 to all candidates who have been on a debate stage (I have given additional donations to my preferred candidates through my personal email, but the campaigns have linked the two accounts together and may ask for more as a result).
When showing breakdowns by campaigns, there will usually be 2 numbers. Emails to my non-donor account will be indicated by a darker color/top bar in horizontal bar charts. Emails to my donor account will be indicated by a lighter color/bottom bar.
Unless otherwise specified, all other charts combine the donor and non-donor numbers, as they are roughly 1-for-1, so the percentages and relative differences don't change much. You can divide the numbers in half to get the rough estimate for what someone not signed up twice would be receiving. The rules I try to follow for the various categories are laid out in The Framework.
If you want specific data on any particular day, feel free to drop a comment!
Julian Castro sent 4 emails on Tuesday, which was more than Joe Biden, Cory Booker, Amy Klobuchar, Elizabeth Warren, and Marianne Williamson sent, with their 3 each. Michael Bennet, Bernie Sanders, Tom Steyer, and Andrew Yang each sent 2.
Castro was all across the board yesterday. He started off with a mismatch of his subjects yet again, saying that the Breakfast Club announced something that he actually said while on the Breakfast Club.
What was it that he said? Not much, actually. Just that he didn't have billionaire donors or Super PACs so he needed our money to stay competitive.
Castro later emailed about how Tom Steyer had bought his place on the November debate stage and Tulsi Gabbard secured her place at the last minute, and there were only twenty-four hours left for him to squeeze in.
He took a detour in his next email to talk about the importance of changing the early primary system and making it very clear that this wasn't because he wasn't winning in (any of) those states!
To be clear, this isn't about which candidates voters in these states may choose, or have chosen in the past. This is about who gets to do the choosing. 

Julian Castro
And yes, I agree, Iowa and New Hampshire aren't very representative of the country as a whole, but they do take Presidential vetting very seriously, and that is a culture that would need to be cultivated in other states to get them to take over.
Castro then finished the day with an honest plea for help.
I need to be completely honest: 

I only have 24 hours to secure my spot in the next debate — and as of 6pm, it looks like I might not make it. 

Together we've beat the odds time and time again — but right now, I need you more than ever. Will you rush $5 before midnight so I can fund my final 24-hour push and make the cut before time runs out? >>

Julian Castro
He did put in his subject that he was politely asking instead of humbly asking, so there's that, I suppose.
Now let me be completely honest: Money won't help Castro at this point.
Castro does not have the polls. In order to make the November debate in his "final 24 hour push," he would need 3 polls to be released in those 24 hours showing him having enough support to qualify (3%).
For the past month, a poll of 1% is a high point for Castro's poll numbers.
Castro does not have the support to get on the November debate stage, and he knows it. Instead of changing his focus to December, though, he's choosing to fleece his supporters for money by not explaining that he doesn't have a chance for November.
So sure, Castro's asking politely, but I am so done with his grifting.
Elizabeth Warren was tired of hearing from billionaires about her ultra-millionaire tax, so she asked the rest of us to write to her with our stories of what a 2-cent tax on the wealthy would mean in our lives: aka how would her plans help us.
Marianne Williamson, meanwhile, had a great new idea to help her message of love in politics spread: Campaign circles!
In order to create the America we want, we need a new politics to contain it. Negativity and anger must be replaced by positivity and love. 

First we create a new politics, and then we create a new America.The needle that weaves the fabric of this new politics is a process I call the Campaign Circle.

How to Create a Campaign Circle
Find three or more friends who share your interest in our campaign, and invite them to your home (or coffee shop, or wherever) for a Campaign Circle.

First, go around the circle and have everyone introduce themselves, share their personal story, and say why they either support Marianne Williamson for president or are leaning that way.

Second, go onto Marianne2020.com/all-videos and watch one of our recent videos together.

Third, choose an issue from the Issue section of the website and read it as a group, much like you would for a book club. Go around the circle and allow each person to share their feelings about it.

Next, each person takes out their computer or cell phone. Email your experience of the circle to at least five other people. It's really a good idea to do this while you're still with the rest of the group. Invite them to check out the Marianne2020.com website, join you for the next circle, etc. Make those five or more people your personal field of operation for the campaign.

If you plan to do a Campaign Circle, send the information about your group to circle@marianne.com.

Thank you! This is very exciting. Let's get this going!

Marianne Williamson
For those of you not politically active… this is called "relational campaigning," or more generically: "meet-ups."
Williamson also encouraged me to join her in waging peace and offered a Department of Peace sticker if I donate. And speaking of her donations…
Her rainbow has expanded. Again. She really likes that $2,800 button.
Andrew Yang has hit one million Twitter followers, and he is celebrating with new merch! Of course he is!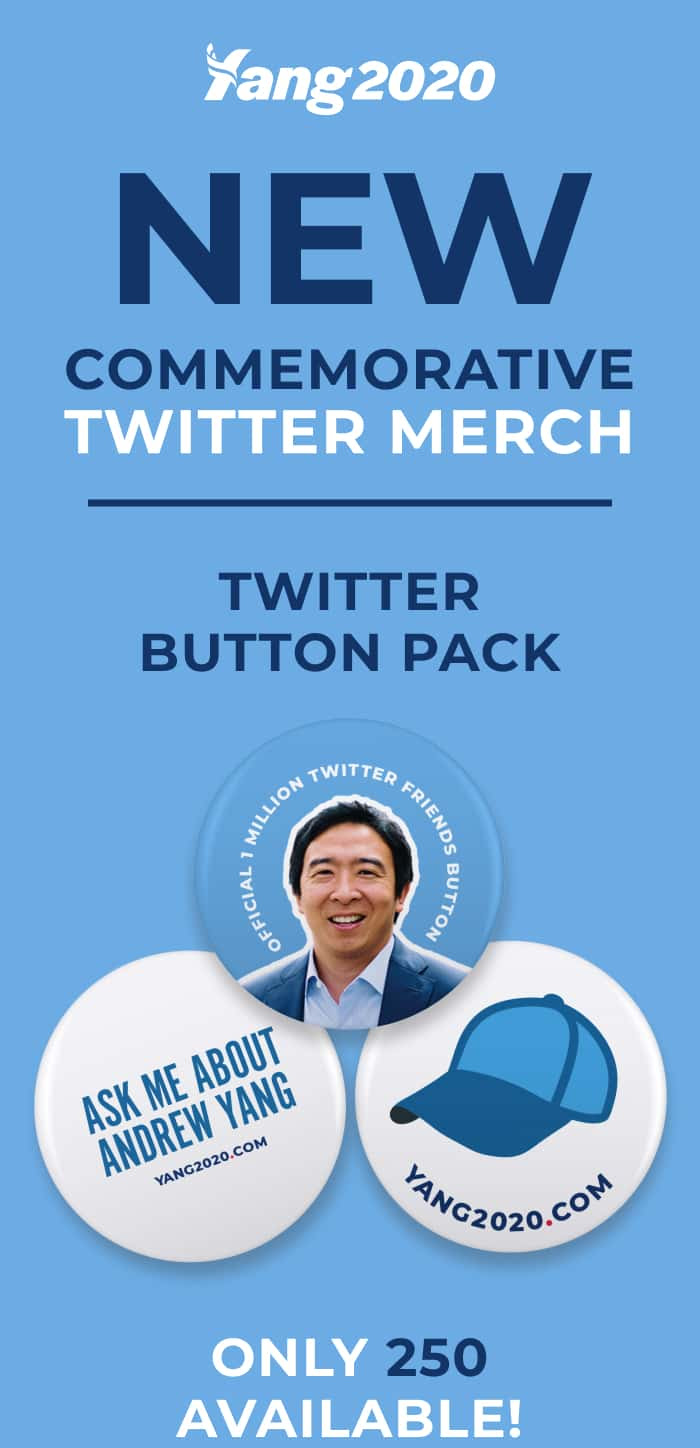 I have to admit, I'd probably want at least two of those buttons if I wanted to promote Andrew Yang in my everyday life. The hat and the "Ask me about Andrew Yang" are nice and clean designs.
That mug, though… eesh. I like to play board games. No one would want to invite you over for a board game party if you're the sort of player who brags about passing other players.
Finally, Pete Buttigieg closed his fundraising goal with some unfortunate news: they didn't quite make it. But he did acknowledge the closing of a goal, which as you know, I always appreciate. It just means his supporters can rally to do better next time.
Though I can't help but feel like they'd rally more if they weren't annoyed with his email volume. Thankfully, there was only one email from him on Tuesday.